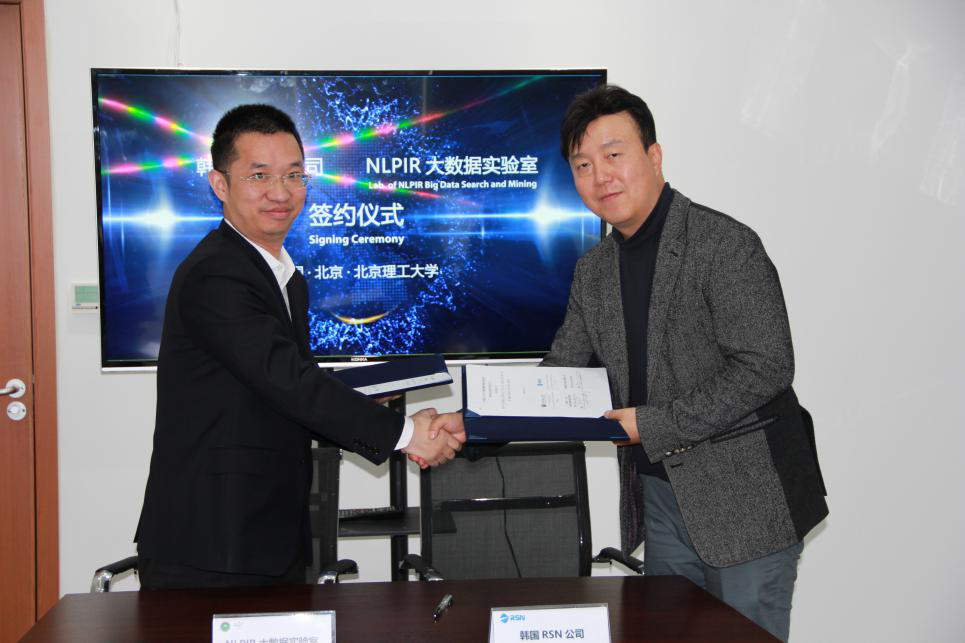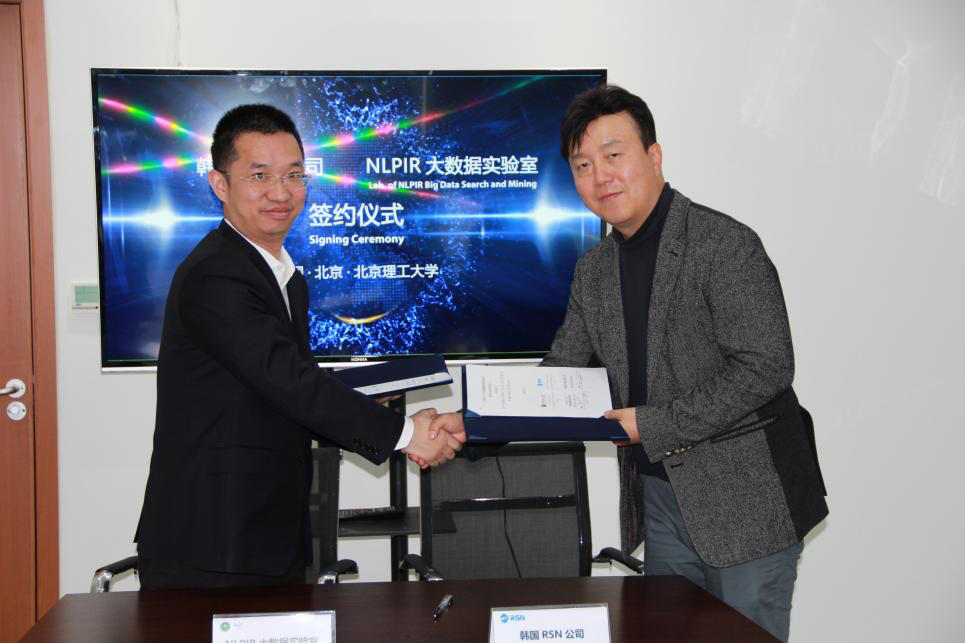 2019年4月9日上午,NLPIR大数据实验室与韩国RSN公司(Restructure Social Network)举行了合作签约仪式。主任张华平副教授和RSN公司副总经理 Lee young soo等人员出席了签约仪式, 推动中文大数据语义智能分析在韩国的深度应用 。
首先,张华平副教授和RSN公司 副总经理Lee young soo分别致辞,双方均表示期待在以后的合作中将共同努力,不断深化合作范围,共同推动语义智能技术发展。最后实验室张华平主任和RSN公司 Lee young soo分别代表双方在合作协议上签字。
本次签约战略合作协议,旨在共同推进中文文本分析技术在韩国多领域的应用和发展,并通过基于智能技术的应用分析为韩国在华企业提供更为深入的洞察视角,助力企业商业决策和战略部署。双方将充分利用彼此在社会大数据收集及分析方面的技术成就,在中文分析等相关技术领域进行更深层次的战略合作。 RSN是韩国社交网络挖掘市场占有率第一的公司,已经服务了三星,LG,欧莱雅等跨国企业在韩国的市场监测分析。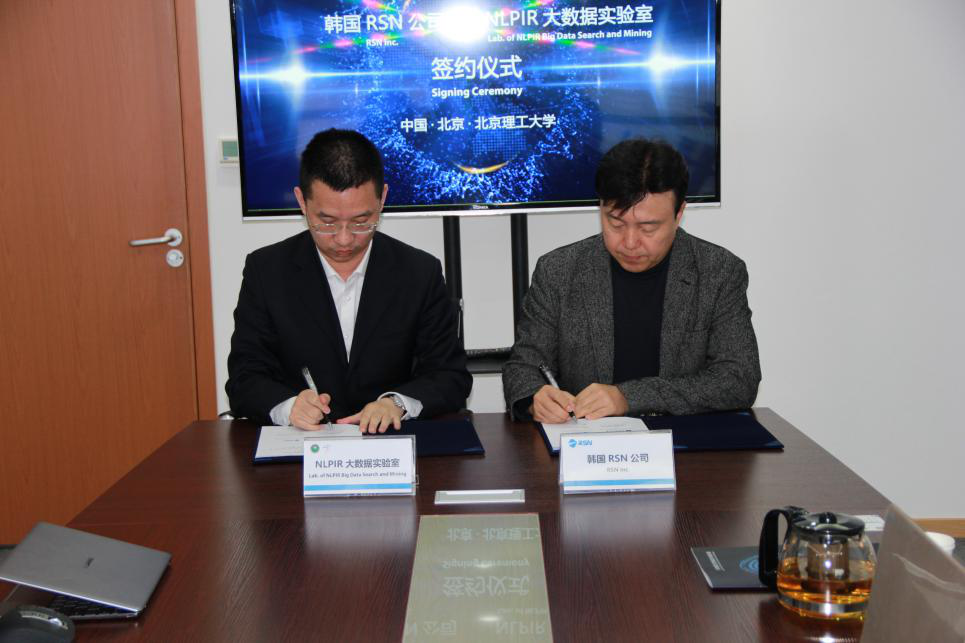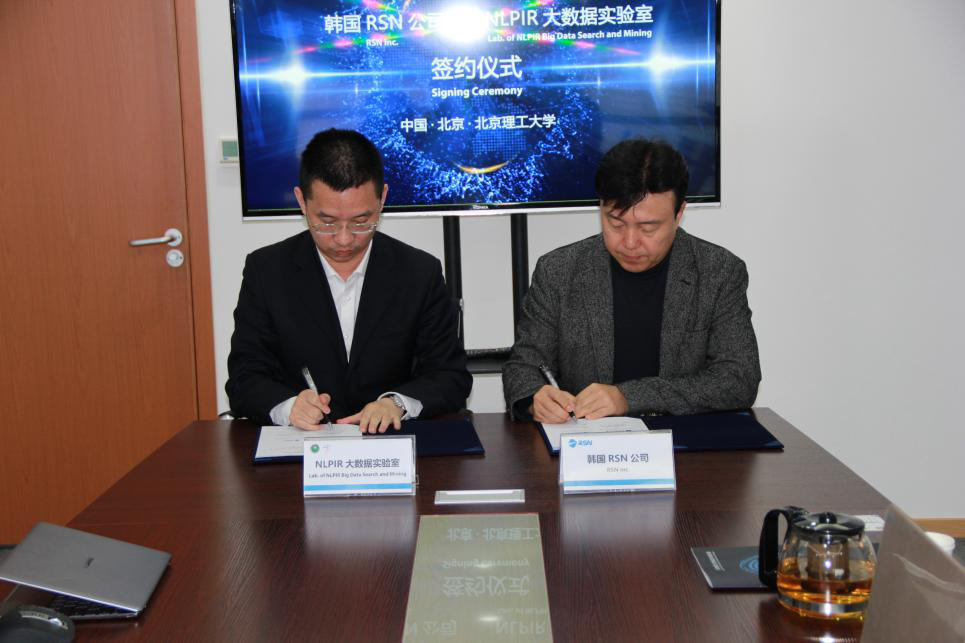 NLPIR Big Data Lab. of BIT Signed Cooperation Contract with Korea RSN Inc.
On the morning of April 9, 2019, NLPIR Big Data Lab held a cooperation signing ceremony with South Korea's RSN Corporation (Restructure Social Network). Associate Professor Zhang Huaping and Deputy General Manager of RSN Lee Young Soo attended the signing ceremony to promote in-depth application of Chinese big data semantic intelligence analysis in Korea.
To begin with, Associate Professor Zhang Huaping and Deputy General Manager of RSN, Lee Young Soo, delivered speeches. Both parties expressed their commitment to work together in the future, to deepen the scope of their collaborative efforts and jointly promote the development of semantic intelligence technology. Finally, Director Zhang Huaping and RSN Lee Young Soo signed the cooperation agreement on behalf of both parties.
The signing of the strategic cooperation agreement aims to jointly promote the application and development of Chinese text analysis technology in various fields in Korea. Moreover, it intends to provide comprehensive and in-depth insights for Korean companies in China through intelligent technology-based application analysis to help enterprises make sound business decisions and for strategic deployment. The two sides will fully leverage from each other's technical achievements in social data collection and analysis, and carry out deeper strategic cooperation in relevant technical fields such as Chinese analysis. RSN is the No. 1 company in the Korean social network mining market, and has already served the market monitoring and analysis of multinational companies such as Samsung, LG and L'Oreal in Korea.