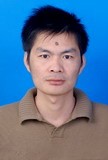 Personal information:
Name: Wu Bo Zhang Date of Birth: 1977.6.9 Gender: Male Major: Computer Application Technology.
Title: Associate Professor.
Email: zhangwubo1234@126.com.
Address: No.167, Checheng West Road, Zhangwan District, Shiyan City , Hubei Province, China.
Educational Background:
HUBEI UNIVERSITY OF AUTOMOTIVE TECHONLOGY 1997.9~2001.6/ Bachelor degree.
WUHAN University of SCIENCE AND TECHNOLOGY 2001.9-2004.6/ Master degree.
Work Experience:
HUBEI UNIVERSITY OF AUTOMOTIVE TECHONLOGY 2001.7~ Present Teacher
Main Work: Teaching for Computer Science and Technology
Primary Teaching Course: University Computer Basis, Programming in C, Computer Architecture, Development Technology of Mobile Application
Research Experience:
Research area:
Technology of Information Construction in Automobile Industry;
Natural Language Processing
Projects:
2012~2013:The Hubei Province's Platform for Assessment of Scientific and Technological Progress(finished).
2011~2014:Construction and Practice of Training Program for Computer Engineering Applied Talents(finished).
2013~2014:A Platform of Auto After-Sales Service for Dongfeng Special Vehicle Co.,Ltd
2013~2015: A Purchase-Sale-Storage System of Auto Parts(finished).
2013~2014:Human Resource Management System for DONGFENG INVESTMENT CASTING CO.,LTD
2014~2015:Information Management System for Assembly Line(finished).
2015~2016:Research on Mobile Application Service Platform for Automobile Industry (DongFeng) Group(finished).
2015~2016:Information Service Platform for Commercial Vehicle Industry Based on Cloud Computing(finished).
2016~2017:Information Management System for Power Enterprise Standard System(finished).
Copyright of Computer Software:
2012: A Information Management System for Competition Based on B/S Mode v1.0.
2017: A Information Management System for Company cadre Based on Android v1.0.
2017: A System for Supervision of Warehouse Vehicle Based on Android v1.0.
Journals:
2014: Setting Up an Open Experimental System to Improve the Quality of C Language Teaching—《University Education》.
2014: Research and design for estate management system of DongFeng Real Estate Co., Ltd. —《Microcomputer & Its Applications》.
2014: How to Use the feof Function Correctly in C Language—《Modern Computer》.
2014: Design and Development for Energy Management System of Dongfeng Real Estate Co., Ltd —《Journal of Hubei University of Automotive Technology》.
2015: Research on The Key Technology of Information Management System of Automobile Industry Standard—《Computer Knowledge and Technology》.
2015: Application Research on Model of Lucene for Full-Text Retrieval Engine –—《Software Guide》.