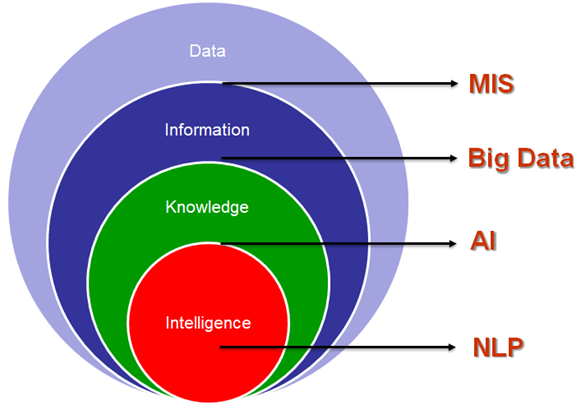 NLPIR实验室定位为世界一流的多语种认知智能创新中心,服务于国家安全治理、行业大数据挖掘与个人智能服务。实验室目前有教师8人,博士硕士研究生70余人,留学生5人,工程师30余人。实验室目前承担了国家自然科学基金、国家重点研发计划、973计划、863计划、242课题、两高一部、北京市自然科学基金、GF创新特区等国家课题20余项,新疆自治区高新技术计划、河北省科技支撑计划等省部级课题3项,作为ICTCLAS的创始人,实验室主任张华平博士是国内外知名的自然语言处理与大数据专家,先后获得了2010年钱伟长中文信息处理科学技术奖一等奖,2016年新疆自治区科技进步二等奖,2021年新疆自治区科技进步一等奖,2021年国防科技进步二等奖。实验室目前有教师8人,博士硕士研究生60余人,留学生10余人。
实验室核心成果NLPIR多语大数据语义增强分析平台覆盖了中文、英文、西班牙语、法语、维语、阿拉伯语、印度乌尔都语、多哥语等"一带一路"沿线语言的自然语言处理,搭建了NLPIR大数据语义增强分析平台,融合了NLPIR-ICTCLAS汉语分词系统、JZSearch大数据搜索引擎、KGB知识图谱引擎、九眼智能过滤等工具。NLPIR已经应用于中央网信办、最高人民法院、国家气象局、华为、人民网、建行、航天科工、平安科技、中国科学技术信息研究所、国防科大、NCR、意大利ExpertSystem、韩国RSN等国内外40万机构。

NLPIR大数据搜索与挖掘实验室期待各类研究人员加盟,也热诚欢迎各种形式的合作。
联系方式: kevinzhang#bit.edu.cn
联系电话:010-13681251543(助理)
地址:北京理工大学网络信息中心2层
Intro. to NLPIR Lab.
NLPIR Lab. in Beijing Institute of Technology(NLPIR@BIT) aims to be the world-class innovation research and technology team in multilingual information intelligence processing, big data intelligence, especially with Chinese language.
Big Data Intelligence:Extracts knowledge and insights from all micro pieces of complex dataset, which is instantly changing, various and different, with the tools of natural language processing, information retrieval and deep learning.
The research interests are including big data search, mining, social network analysis, knowledge graph and natural language processing (NLP). BDSM@BIT has been granted over 20 research projects by National Science Foundation of China, Chinese National Programs for High Technology Research and Development (863 program), Key Project of Chinese National Programs for Fundamental Research and Development (973 program). BDSM@BIT has built a wide cooperation with international universities such as University of Pennsylvania, The Technical University of Madrid and Dublin City University. The technology in BDSM@BIT has been applied in over 500,000 companies including Expert System in Italy, NewsCorp, Huawei and the People's Daily . The director of BDSM@BIT is Dr. Huaping Zhang (or Kevin Zhang). Dr. Zhang has published 5 books, over 100 papers. He developed Chinese lexical analysis system ICTCLAS, which ranked top in the international word segmentation bakeoff (SIGHAN bakeoff).  ICTCLAS is the most poplular Chinese word segmentation system, which is used by over 500,000 organizations (including Huawei, News Corp, Expert Sytem, NEC, NCR) in the world.  His system NLPIR/ICTCLAS was the most cited work in Chinese natural language processing domain (over 20,000 citations).  He was awarded with the first prize of Qian Wei-Chang Chinese Information Science and Technology Award (top award in Chinese NLP field), Second Prize of Science and Technology Award from Xinjiang Government  for Progress in Science and Technology  in 2016, First Prize of Science and Technology Award from Xinjiang Government   for Progress in Science and Technology  in 2021, President Scholarship of Chinese Academy of Sciences (CAS), and Special President Award of Institute of Computing Technology(ICT), CAS. His research interests include Big Data search and mining, natural langugae process espeically with Chinese language processing.  As a famous scientist in Big data and natural language processing, Prof. Zhang has given invited talk on CCTV (the national TV station).